So, I've been craving good Chinese since my sister told me that she had ordered 96 dollars worth of Royal China for two people, and I've been trying to figure out what I would make for a few days. Since my husband has basically threatened to divorce me if I serve him roasted/grilled chicken ever again, I decided to do a beef dish. Turns out, I'm pretty legit with Asian cuisine. I didn't make my own dumplings from scratch this time (I will try and remember how I made them in the past), but steaming them in a steamer basket makes them taste pretty close to restaurant style. Cut the recipes in half if you want to just make it for two. Or one….  you'll have leftovers for you and the cat I assume you live with.
Total cooking time, 45 minutes. Additional ingredients/ equipment needed: 1 serving of dumplings from grocery store sushi section if wanted. Heavy bottomed pans (2) and a steaming basket for the dumplings if you want them.
Beef & Broccoli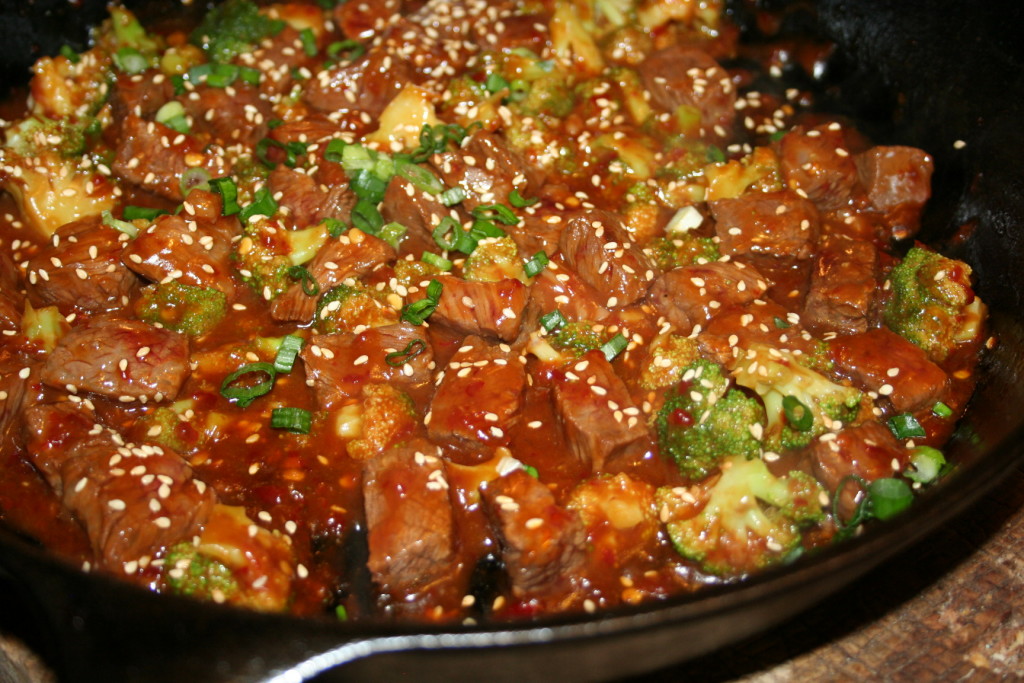 Serves 4. Total cooking time 30 minutes.
2 boneless ribeyes, excess outside fat trimmed
¼ C. low sodium soy sauce
2 tbs. extra virgin olive oil
2 tbs. sambal olek (**use less, or none if you aren't a fan of spice!)
1 tbs. ginger paste (the kind you find near the herbs in the vegetable section
3 cloves minced garlic
1 bag (1 lb) chopped broccoli, steamed for half the time the bag calls for
2 chopped green onions (for garnish)
1 tbs. toasted sesame seed (for garnish)
2 tbs. high heat cooking oil (stir fry oil if they have it, if not, olive oil is fine)
2 tbs. cold water
1 tbs. cornstarch (whisk the water and cornstarch together to create a cornstarch slurry)
Cut the ribeyes into rectangular pieces, similar in size to Jolly Ranchers, about 1" long by ½" thick. In a small bowl, whisk together the soy sauce, oil, sambal, ginger and garlic. Add the steak to the bowl and let it marinate for 10 minutes. If you have time, let the meat sit in the sauce for several hours, but that is not necessary. While the meat is marinating, heat 2 tbs. of stir fry oil in a pan until hot, but not smoking. Once the oil is hot, test a piece of the meat. If it sizzles loud, the pan is hot enough. Add in the meat (use tongs or your hands to add the meat in, as you want to save the marinade). Cook the beef for 3 minutes, stirring occasionally. Add in the broccoli and cook for another 3 minutes. Add in  the remaining marinade and the cornstarch slurry and stir to combine well. Simmer for another 3  minutes until the sauce turns thick and the meat is cooked through. Garnish with sesame seeds and chopped green onions.
Quinoa Fried Rice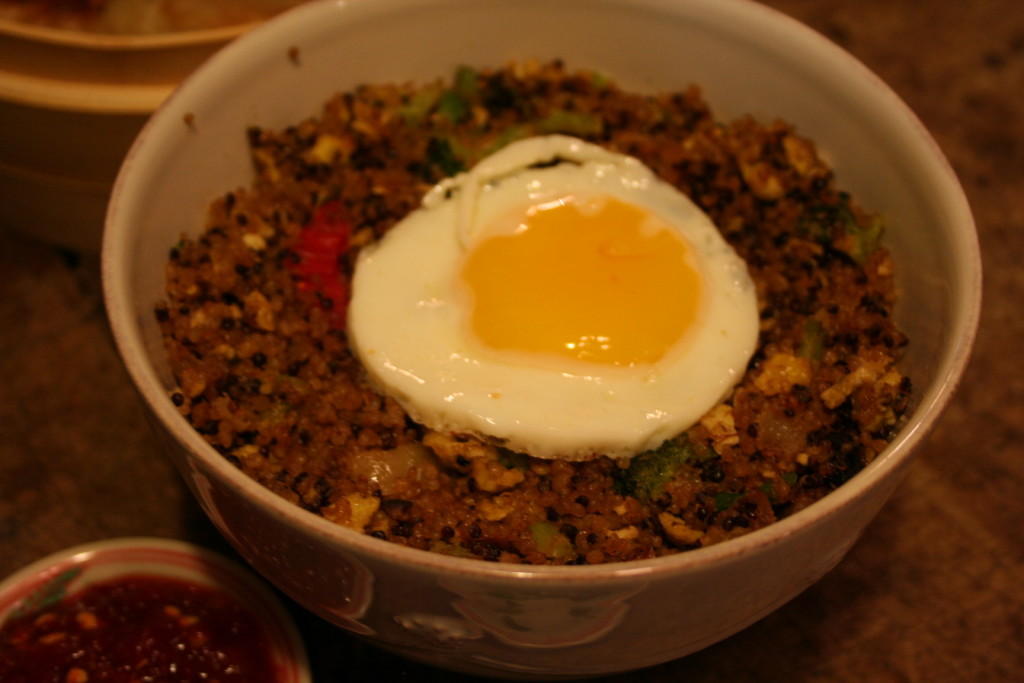 Serves 4, total cooking time 20 minutes
In a large pan, cook Asian veggie medley according to directions with 1 tbs. oil. As the vegetables are nearing completion, add in the 4 eggs and scramble in the same plan. I usually make a well in the center and spray cooking spray then add in the eggs and scramble. Once the egg is scrambled, add in the quinoa, butter and soy sauce. Stir to combine, and cook for an additional 5 minutes until the quinoa is hot. I topped ours with an additional fried egg for looks.
I like to serve the dish with some steamed store bought dumplings. The dumplings can be found in the sushi section in the deli area. I prefer pork dumplings. Simply steam for 5 minutes and they will be heated through.