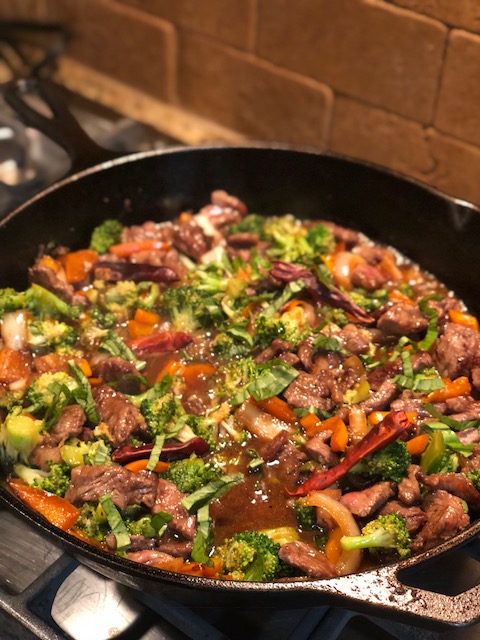 In keeping with my promise to try and post at least once a week, here is this weeks post… What I'd really like is for someone to pay me to write, because my dad doesn't give me allowance anymore (but my daddy does), and baby shit is expensive. I can't continue to buy $40 jammies for my kids and feed my family at the same time. Therefore my children are naked, but me and Craw are well fed. COME AT ME SPONSORS. Anyways, enter this week's post–easy beef stir fry with veggies. This serves 2 with leftovers. I served with quinoa fried rice and some shrimp potstickers.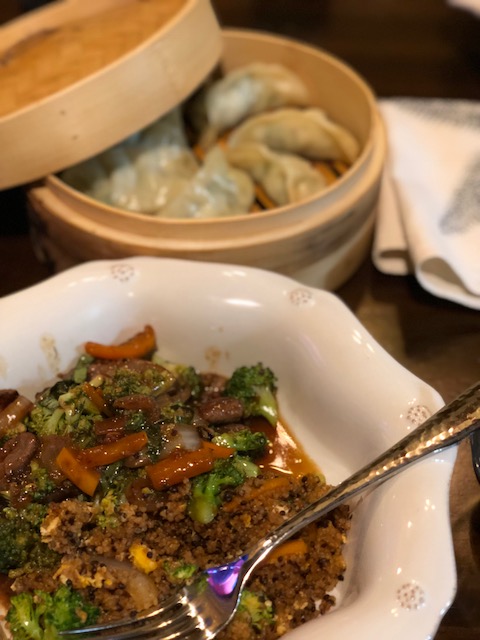 For the meat and vegetables
1 lb. steak, I used a Delmonico cut from Midland Meat Company, if you aren't in Midland, or that cut isn't available, grab a ribeye.
1/2 head broccoli, chopped
1 bell pepper, chopped (I used orange)
1/2 white onion, chopped
3 cloves garlic, thinly sliced
1 jalapeno, cored and chopped (omit if you can't handle heat)
corn starch
2 tbs. avocado oil (or olive oil if you don't have avo oil)
chopped basil for garnish, if you like basil (about 5 leaves)
For the sauce
1/2 C. soy sauce
1/2 C. beef broth (I used bone broth)
1 tbs. ginger paste or 1″ fresh ginger, minced
1 tbs. oyster sauce
1 tsp. corn starch
1 tbs. sambal chili
Thinly slice the beef, trimming any excess fat. The meat will have some good marbling so some fat is normal, I just trimmed off any huge chunks. Toss the beef in some cornstarch to coat, and set aside. You don't need the meat completely doused in the corn starch, just dusted. Steam your broccoli (I added a splash of water and microwaved for 3 minutes). While the broccoli is steaming, in a cast iron pan (or any heavy bottomed skillet) saute the onions, bell pepper, garlic and jalapeno in 1 tbs. avocado oil until softened, approximately 5 minutes. Add to the steamed broccoli (drain any excess liquid from the broccoli before) and set aside. Heat the pan to medium high and add in the other tablespoon of avocado oil. Once the oil is shimmering and realllllly hot, add in half the beef. Cook for one minute then flip, cook another 30 seconds and remove, doing the same to the other half of the meat. If your meat is sliced thin and your pan is hot enough, this is plenty of time. In the same pan where you cooked the beef and veggies, add in the sauce ingredients and bring to a simmer. Once simmering, add in the veggies and beef and cook for another 3 minutes until the sauce has reduced and everything is coated in the sauce. Serve with steamed rice or this quinoa fried rice.