I'm clearly on a meatball kick, and these might be my new favorites. If you want to mix it up and add in little pearls of mozzarella to the balls and they'd be even cheesier. You'll love my balls, I promise….
Serves 4, total cooking time 45 minutes
Tools needed: blender, skillet, baking pan, microplane or lemon zester
Chicken Parmesan Meatballs
2  tbs extra virgin olive oil
1 tbs. tomato paste
2 large eggs
1 cup grated Parmesan cheese
1 bunch basil
1 cup fresh spinach
4 cloves peeled garlic
1/2 white onion, chopped
1/2 tsp salt
1/2 tsp pepper
2 lbs ground chicken breast
1 cup Italian panko breadcrumbs (if store doesn't have Italian seasoned panko, regular panko is ok)
1 cup shredded mozzarella cheese
1 package whole wheat linguine, or other whole wheat long pasta
1 jar tomato sauce-I prefer Michaels of Brooklyn or Rao's tomato basil
Blend the first ten ingredients in a blender until the spinach and basil are incorporated. The result will look like a thick pesto. Combine the "pesto" with the ground chicken, Parmesan cheese and breadcrumbs until well mixed. Be sure not to overwork the meat, which will result in a less than desirable texture. Heat oven to 350 and Spray a baking pan with cooking spray. Using wet hands, roll the meatballs in to golf ball sized balls and place in the pan. If you have the time, it is best to let the meat sit in the fridge for 2 hours before balling it, but it is definitely no necessary-just makes the meatballs easier to shape. Bake for 20 minutes then remove from the oven. Move all the meatballs into the center of the pan so that they are as close together as possible. Add a spoonful of tomato sauce to each meatball, the top with the shredded mozzarella cheese. Bake for an additional 15 minutes, until the cheese is melted. In a skillet, heat the remaining tomato sauce (there will be a bit of extra) until simmering. Once the meatballs are done, transfer to the sauce skillet.
Crispy Panko Broccoli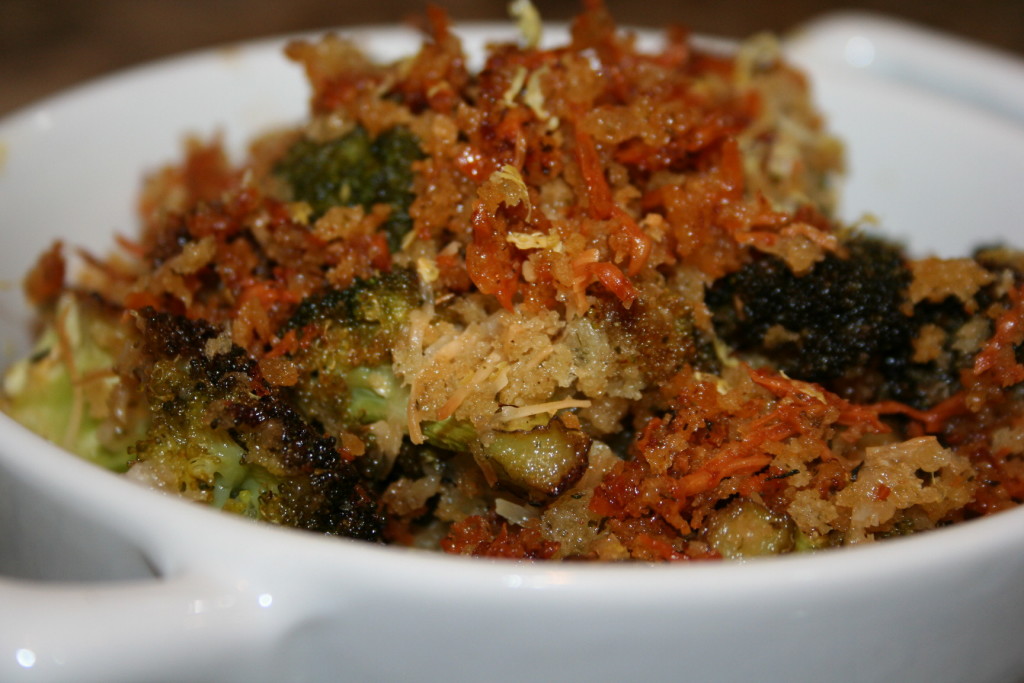 1 package chopped broccoli (1 lb.)
1 tbs. extra virgin olive oil
1 tbs. butter
Juice of ½ lemon. *Zest the lemon first and set aside for garnish
½ C. panko breadcrumbs (you'll have extra from the recipe above)
½ C. parmesan cheese
½ tsp. garlic salt
Combine the butter, olive oil, garlic salt and lemon juice together in a large bowl and microwave for 30 seconds, until the butter is melted. Stir in the breadcrumbs and cheese,  then toss in the broccoli and combine with the breadcrumb mixture.  Spray a baking pan with cooking spray and spread the broccoli evenly across the pan. Bake for 30 minutes at 350, stirring halfway through. Top with the zest of the half lemon.