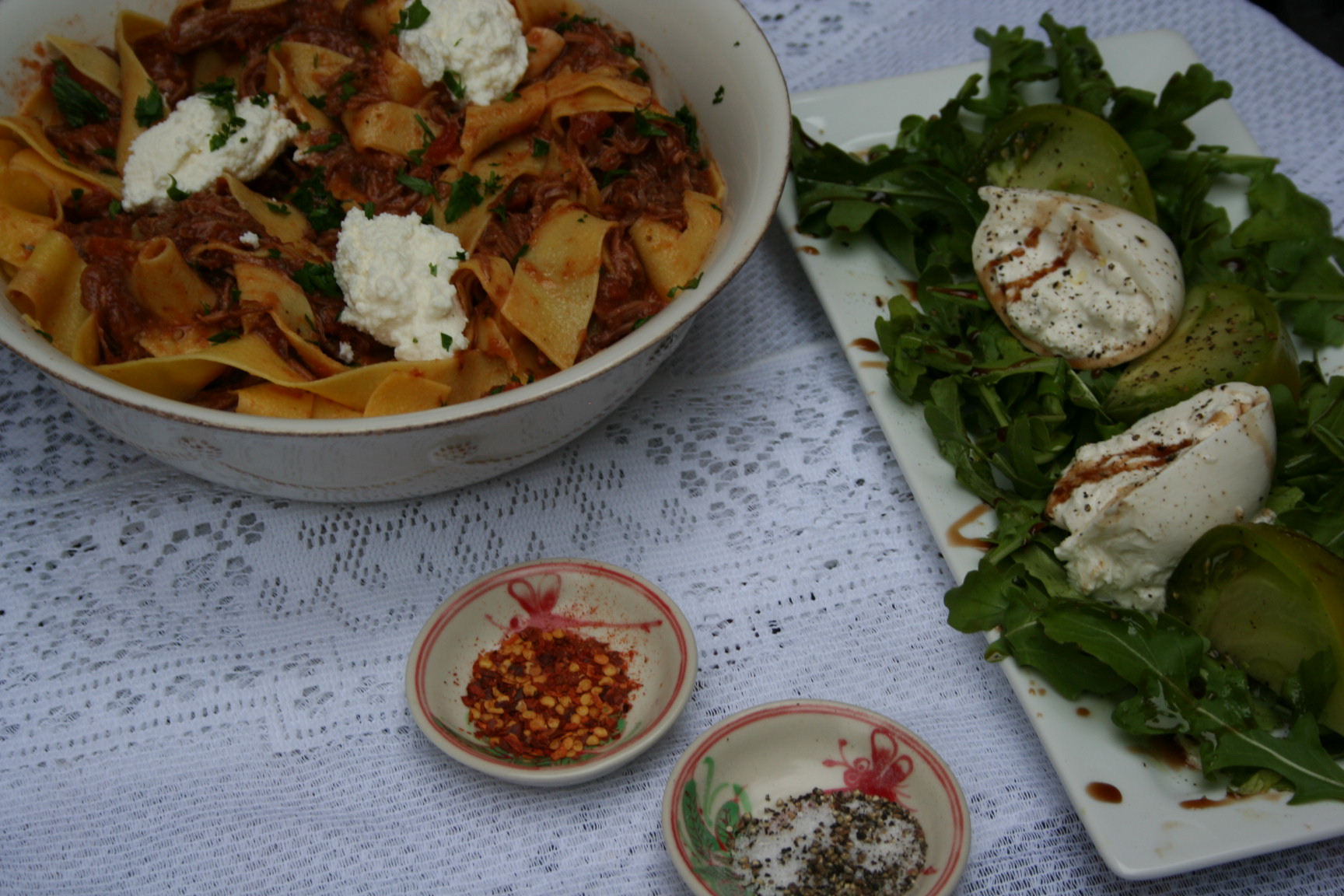 Sorry for the delay in posting. When you have a mini human that can't wipe their own ass and are sprouting teeth in random places, your schedule gets a little f*cked. My tiny human has decided to go on a hunger strike and drink exclusively whole milk and dog water, so that's been a fun 48 hours. Anyone want to babysit? I'll pay you in meaty noodles.
Ok, so if you don't know the skinnytaste name, you need to. She just had a new cookbook come out that is made for legit people with normal ingredients that you can find in a regular grocery store. Her newest cookbook, Skinnytaste Fast and Slow: Knockout Quick-Fix and Slow Cooker Recipes is the bomb.com and I recommend running out and buying it asap. I usually use cookbooks for recipe inspiration/experimentation, and this one is perfect for that. If you aren't comfortable making changes, don't—but I used her ingredients as a starting point, and added a few others.  I added some shallots, more garlic and some basil to this recipe, and it was bomb.com. The first night I had it, I ate it over noodles. While that was good, I recommend doing spaghetti squash, which I'll post the recipe for at the end. I'll also add in the arugula salad with heirloom and burrata with balsamic glaze at the bottom too! Serves 6
Ingredients:
10 cloves garlic
1 shallot, chopped
1 tbs. olive oil
1.5 lbs flank steak (cut up in to 4 pieces) seasoned with salt and pepper
4 sprigs of thyme
4 large basil leaves, chopped (save a bit for garnish)
2 dried bay leaves
1 large can (28oz) San Marzano crushed tomatoes
½ C. low sodium beef broth
½ C. chopped carrot
1 package of pappardelle pasta, or any kind of pasta you prefer.
Salt and pepper
Ricotta cheese for serving
Parmesan cheese for serving
Heat olive oil in a small skillet and add in shallot and garlic. Smash the garlic to release the flavor before you put it in the oil, but no need to chop that. Sautee for 4 minutes, until garlic starts to turn golden. Remove from heat. Then, literally put all the other ingredients except the cheeses,  including garlic and shallots with the oil into your slow cooker on low for 8.5 hours. The flank steak will shred easily with a fork as soon as it is finished. Serve with the pasta (or spaghetti squash, recipe listed next) topped with some fresh chopped basil and ricotta cheese and a light sprinkling of parmesan.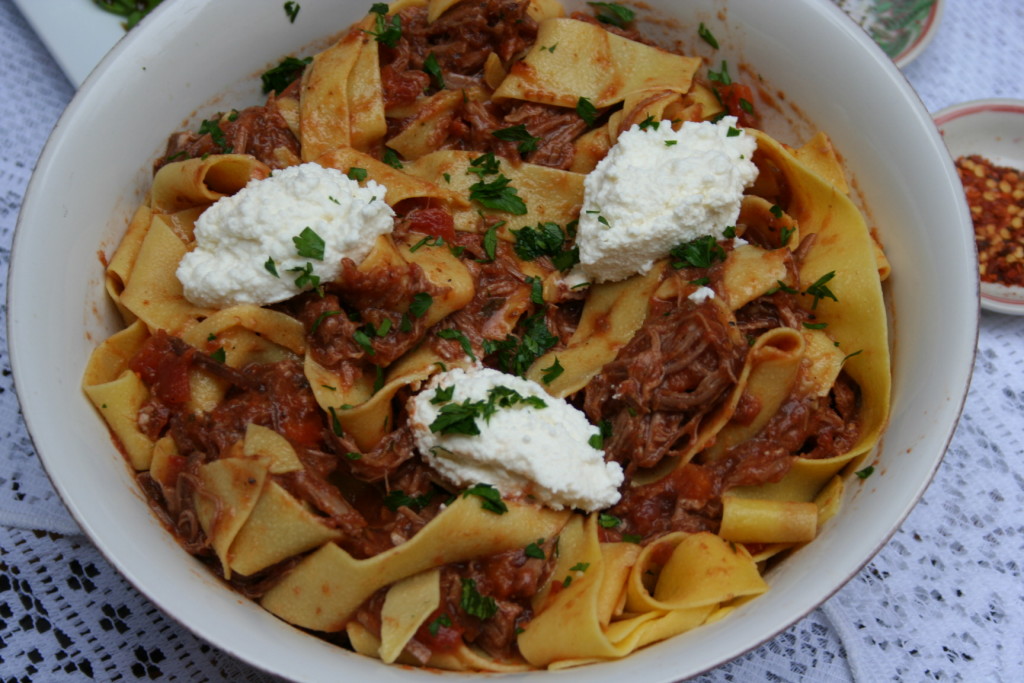 Spaghetti Squash
Ingredients:
1 medium spaghetti squash
1 tbs. olive oil
1 tbs. butter
2 cloves minced garlic
parmesan
salt and pepper
Poke the squash with a fork about 10 times all around (the same way you'd pierce a potato). Microwave for 6 minutes, flip it, then microwave for another 6 minutes. If the skin isn't soft after that, add another 2 minutes. Take it out of the microwave with hot pads and let it rest on a cutting board for 10 minutes. Slice it open lengthwise and scoop out the seeds. Let it rest another few minutes so that it can be easily handled. While you're waiting, heat a skillet with the butter and olive oil and saute the garlic in the mixture. Once you can handle the squash, scrape out the filling and add it to the saute pan. Cook for 5 minutes and season with salt, pepper and parm. A medium sized squash can make 6 small servings, or 4 substantial servings.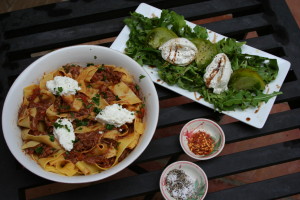 Arugula, Heirloom and Burrata Salad
Ingredients:
1 package arugula
1 large heirloom tomato
1 container burrata (usaully comes with 2 balls)
1 tbs. olive oil
1 tbs. balsamic glaze
squeeze of lemon
Chop the tomato in desired size and put on top of the arugula with the burrata, split into 8 pieces. The cheese will ooze out, which is legit. Drizzle with the oil and balsamic and a little squeeze of lemon. Season with salt and pepper to taste.