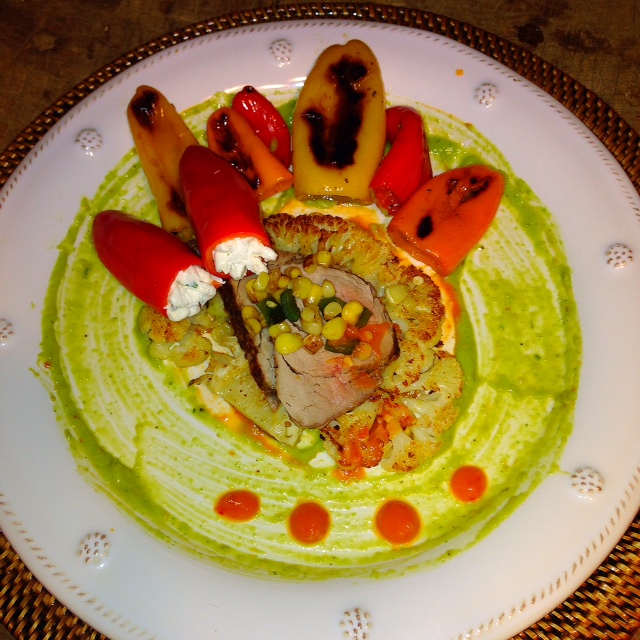 1.5-2 Lb. Pork Tenderloin
Half a bag frozen corn kernels (if this were summer, I'd say corn on the cob, but not in season)
2 roasted poblano peppers, diced
Bag of mini sweet peppers (pictured below)
Goat cheese
Pork tender: You can always buy those pork tenderloins that are already seasoned, but be careful—some of them have some sketchy shit added, so you really are better off just seasoning a plain one yourself. I think most meat is perfect with just some garlic salt and pepper, but if you like different seasonings/rubs, go for it. It's your funeral. Heat your oven to 425. While it is heating, sear your pork on all sides in a pan that can be transferred to the oven. Once it has been seared, transfer to the oven. After 10 minutes, check the temperature… USDA says pork should be cooked to 145, but I take it out at 135 (sometimes lower if I feel fat and want to attempt food poisoning for a nice 5lb loss). Let it sit for 10 minutes. Cut into the center…if it's too pink for you, then stick it back in the oven.
For the "succotash": Roast and peel/chop 2 poblano peppers. To do this, roast them over an open flame and then let them sweat in a ziplock for about 2 minutes. Heat a cast iron skillet over medium low heat and add a tsp. of coconut oil. If you do a higher heat, then just use olive oil. Add the corn and get some good color on it for about 3 mins, then add the poblanos. My poblanos were super hot, so I added in a squeeze of lime and some cotija cheese at the end.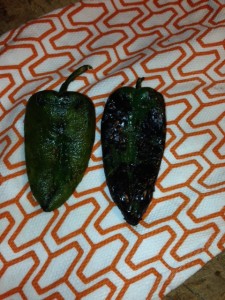 For the peppers: Toss the peppers in a little bit of olive oil and salt peppers. Get a pan scorching hot (where it almost smokes) and add in the peppers. We are looking to get that dark color on them, and bring out the flavor. Cook for about 5 minutes, then transfer to a separate plate to cool. While they are cooling, check your fridge and see if you have any herbs. Pretty much anything works—I used chives. Chop up whatever herb you have, and mix it with the goat cheese. If you have a piping bag, use that to stuff the peppers. If you are a kitchen cheapass, and refuse to pay 3$ for a piping bag, the just use a small spoon. Pipe the cheese into the peppers and serve. If you manage to F this up, then you are hopeless, and probably can't read. No offense or anything.