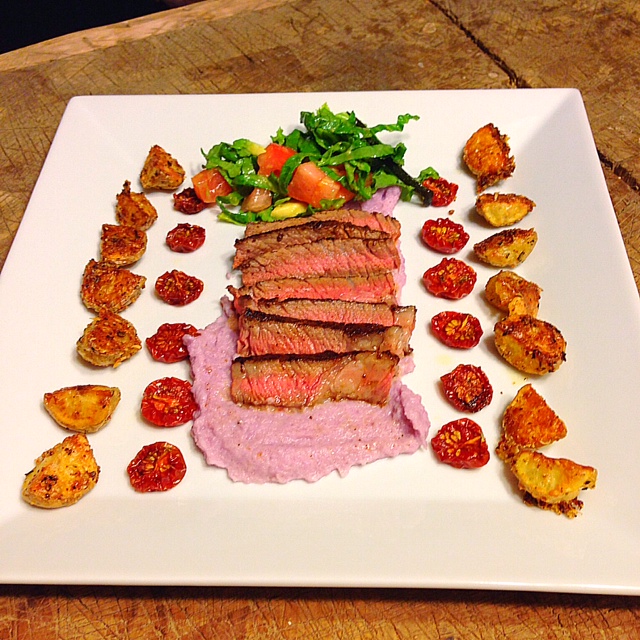 Seared Ribeye
2 Boneless Ribeye
Tommy's Coffee Rub
Olive oil
About an hour before you want to cook your steaks, take them out of the fridge and season them. I used a coffee rub on mine, and just simple garlic salt + pepper on Crawford's. In a heavy bottomed pan that has been on the stove heating for about 3-4 minutes, add in olive oil to coat the pan. When it starts to shimmer, add your steaks. They should sizzle. Sizzle means a good crust, and nothing's worse that a rubbery, soggy steak. After 2.5 minutes, flip and cook for an additional 3-4 minutes. Remove the steaks and cover them for at least 10 minutes. Slice and enjoy.
Purple Cauliflower Mash
1 head purple cauliflower, chopped
4 oz goat cheese
1 tbs light butter
Salt/pepper
Bring a large pot of water to a boil. Add the cauliflower and cook for about 10 minutes. Drain and add to vitamix with the rest of the ingredients and puree. It's a weird color, but tasty.
Parmesan and Rosemary Potatoes
My brain hurts and it's Sunday. Just follow a recipe similar to this, but add rosemary : http://imperrfections.wordpress.com/2010/05/07/parmesan-roasted-potatoes/
Slow Roasted Tomatoes
Package of cherry tomatoes
Olive oil
Cut tomatoes in half and put on a baking pan. Drizzle with olive oil and sprinkle a little s&p. Bake in a 225 degree oven for 3 hours. YES, three hours. These are like crack, and are worth the wait.