It's ten days into no carbs, no dairy, and I'm dying. My noodle a week habit is the hardest to quit, and I've been craving pasta like no other. Well, I've been craving any sort of bread product. I've had several uncomfortable moments of staring sexually at a loaf of bread, and that awkward encounter at HEB where I just picked up a baguette and sniffed it. I need help. This recipe is legit, and I *almost* tricked myself into thinking I was eating noodles. Almost. If you have Veggie Noodle Company squoodles in your grocery produce section, snag them asap. We have the zucchini, butternut squash and sweet potato ones here–hoping they'll start carrying the beet squoods  soon.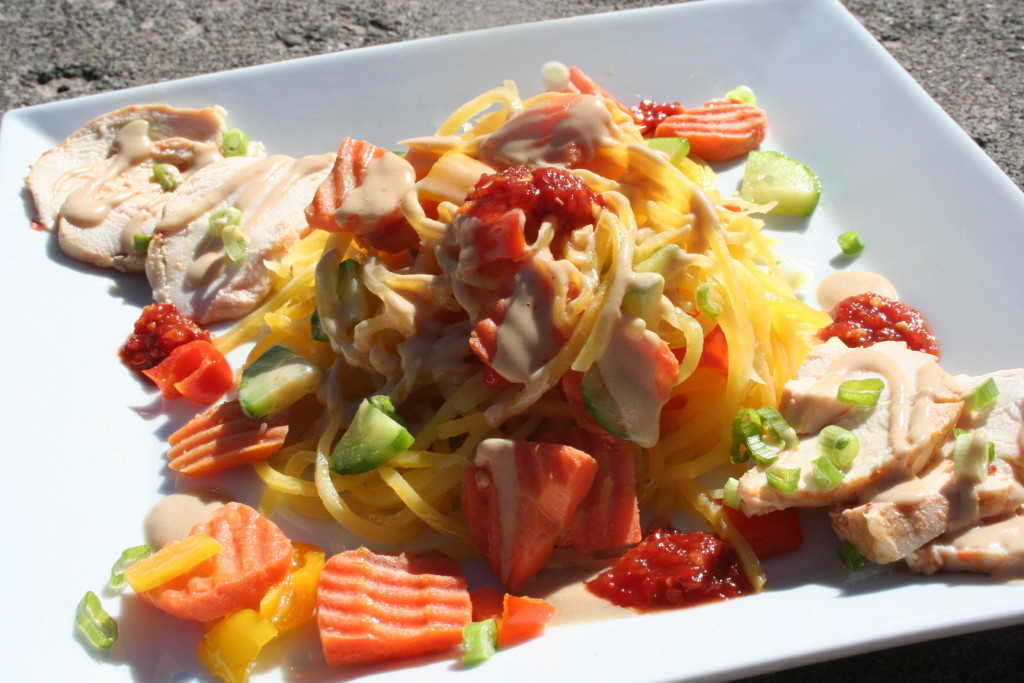 Butternut Squash "Pad Thai"
½ C. creamy peanut butter
½ C. hot water
¼ C. sambal chili paste
2 cloves garlic, minced
1 tbs. ginger paste
¼ C. low sodium soy sauce
2 tbs. olive oil
1 package Veggie Noodle Co. Butternut Squash spirals
2 boneless, skinless chicken breasts
1 package Asian vegetables
1 lime
Preheat oven to 400 degrees. Whisk the first six ingredients together. Reserve half for dressing, and marinate the chicken breast in the other half. Once the chicken has marinated for 15 minutes, place on a baking sheet and bake for 10 minutes, flip and bake another 15 minutes. Remove and let it rest for 10 minutes, while you prepare your "noodles" and veggies. I usually use whatever fresh veggies I have left in the fridge (this is a good clean-out-your-fridge recipe), but a bag of Asian frozen vegetables works just as well. If you are using frozen veggies, steam them in the microwave according to the instructions. In a sauté pan, heat olive oil to medium heat and add in the squoodles. Sauté for 5 minutes, add in the vegetables, and cook another 30 seconds, then add in the rest of the sauce. Divide into two bowls, and  top with the chicken and juice of a lime. You can sprinkle on some chopped nuts for crunch (my favorite are wasabi soy almonds).