I almost had my baby in a parking lot.
Or at least that's what we will tell our sweet girl in 15 years. Turns out, I don't understand what contractions feel like, and am a total dumbass. Either that, or I just wanted to have three square meals before I checked into the hospital. I probably should have gone to the hospital 10 hours before I actually got there, but an hour and a half after I checked in, we had a beautiful baby girl who has stolen my attention span and yearning to cook for the past five weeks. She's my new obsession and I've taken over 1200 photos of pretty much the same thing and think they are just the cutest. I'm SO annoying now. It has taken me almost two hours to write this post because I've picked the baby up fifteen times because I thought she needed to burp. Or was having a bad dream. Or wanted to pet the dog. Or just wanted to love on me. Whatever, I am a baby person now, get over it. But I know I still love my dog, still love to cook, and still love my husband.  All in pretty much that same order. (Jk?). But seriously, my dog is the best.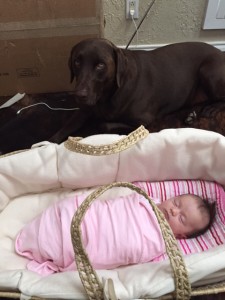 Anyways, the day before I hatched our baby, I decided a breakfast feast was the way to go. It was going to be our last Sunday as a family of 3 (yes, my dog counts as a human), and a lazy fat Sunday needed to happen. And it did…. Homemade piggies, sausage gravy, soft scrambled eggs, sausage, and fruit (for picture purposes only) graced the menu. I used canned biscuits b/c I didn't have enough flour to make a full batch of biscuits from scratch, but the gravy is really the best part, so that should be the most important. If you aren't 9 months pregnant and don't have an excuse to eat for two, I guess you could use low-fat ingredients or eat less, but I recommend using exactly what I used…I won't judge.
1 lb spicy breakfast sausage
½ C. flour
3 tsp. black pepper—it's better if you freshly grind it. It'll burn calories
½ tsp. onion powder (leave out if you don't like onions)
½ tsp salt—add more if needed
5 cups whole milk
In a cast iron pan, cook the breakfast sausage, breaking it up into desired size. I like to break it up into little tiny pieces so that there is sausage in every bite. Once the sausage gets close to fully cooked, add in half of the flour and stir to coat the sausage, stirring/cooking for 30 or so seconds and then add in the rest of the flour. Once the sausage absorbs the flour, add in the milk and onion powder and whisk/stir to combine. Simmer the gravy for 10ish minutes until it becomes a gravy-ish thick consistency. Ew, that sounds gross. Add in the salt and pepper and taste it. If it needs more salt, add it. If it's too thick, add more milk. Don't be an idiot. If you want a badass biscuit recipe, use this one: http://www.foodnetwork.com/recipes/paula-deen/biscuits-recipe.html because Paula Deen is one b*tch who isn't messing around with biscuits. Or diabetes. Or anyone who isn't white. Basically Paula Deen is a racist diabetic, but damnit if she doesn't have some good recipes. She even created Deep Fried Chocolate Pound Cake and something called "Is It Really Better Than Sex? Cake."  Vomit. The thought of Paula Deen getting dirty… not something I should've put in your head? Ok fine, imagine childbirth. Not sure which is worse?
Wait, yes I do. CHILDBIRTH
So now, I am about to bid farewell to the angel that has been helping us with sweet E for the past few weeks and hopefully will start cooking more and writing more, so stay tuned… My four-legged assistant seems to be quite the babysitter, so maybe I can leave the babe at home with her brother and write more restaurant reviews? TBD…. Warning, the rest is of this is just cute pics of my little hot pocket. Stop reading if you hate babies (which is where I would've stopped reading five weeks ago to be totally honest).