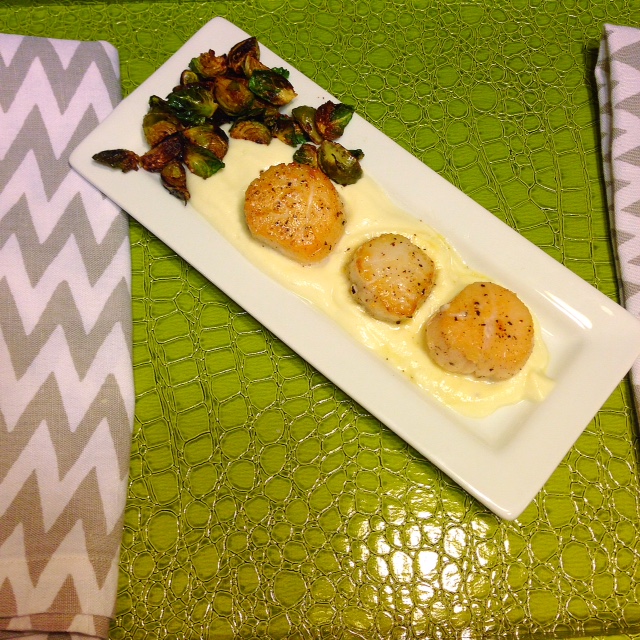 Pan Seared Scallops and Shrimp with Cauliflower Foam
6 medium/large scallops
6 medium/large gulf shrimp (MAKE SURE THAT IT'S NOT FROM ASIA!)
1 clove of minced garlic
Wedge of lemon
½ tbs butter
1 tbs. grapeseed oil (no taste, high heat oil)
1 head (or one package) of cauliflower. I bought the bag that already is in florets
½ – 1 cup heavy cream (woof. But worth it)
½ tsp. black truffle salt
Steam the head of cauliflower. My husband thinks that steamed or roasted broccoli/cauliflower smells horrible, so light a candle. Without fail, every time I cook broc or cauli, he walks in the house, and thinks that I've just been tooting all around the place. I swear it's the broccoli!? Put the steamed cauliflower in your Vitamix with the salt and heavy cream and puree just until smooth. It looks like whipped cream and tastes just as fattening. Put to the side.
Peel and devein your shrimp. I have to P&D my shimp b/c the only peeled and deveined shrimp we have at HEB are sickass ones from Thailand or Cambodia. Fresh gulf shrimp is where it's at, and the extra step is no big deal. Pat all the seafood dry, and set the scallops on a paper towel for a minute to absorb any extra moisture. Season the scallops and shrimp with salt and pepper. Heat a nonstick skillet to high. Once hot, add in the grapeseed oil and swirl to coat the pan. Add in the scallops and make sure they are sizzling—you want to get a really good sear. Otherwise you just have weird , somewhat moist, rubbery  seafood. Sick, I wish my mind didn't wander to where it is right now….so NOT kosher for a Sunday morning. (I am however watching church on my laptop, so that counts, right?) Glad my mom doesn't know how to use the internet. Cook each scallop for 45-60 seconds and flip to finish. Remove the scallops and let them rest on a paper towel and put your shrimp in the skillet. Once I put the shrimp in, I like to add in a clove of minced garlic, a squeeze of lemon and a tiny bit of butter. Shrimp take like a minute to cook, so once they are pink, remove.
Put a little bit of the cauliflower puree on a plate (the recipe above makes a lot more than you should eat….) and top with the seafood. Garnish with chopped parsley if you so fancy… Enjoy!