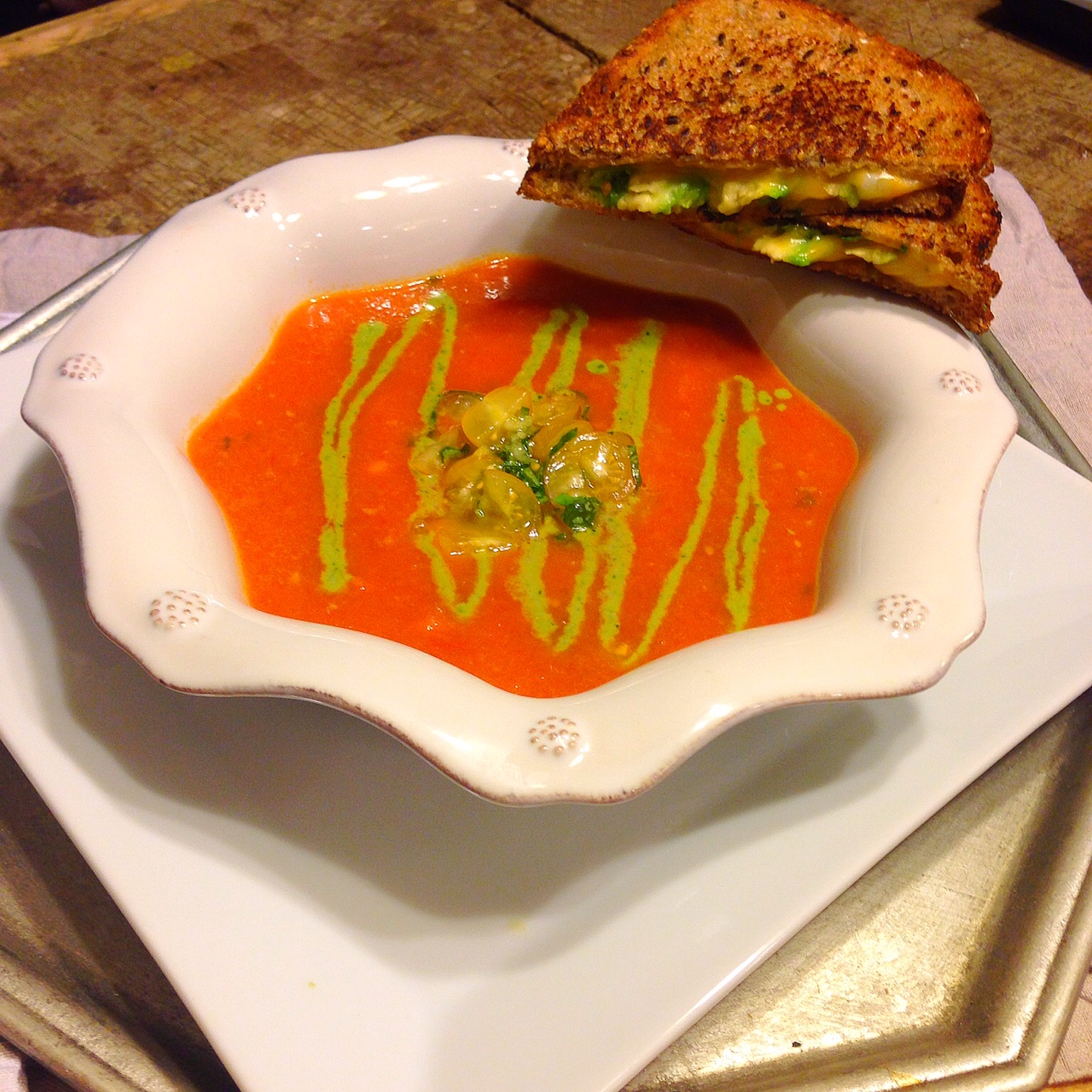 So, Monday showed up again. Mother f'er. My ideal week would consist of Tuesday – Friday. Obviously no Mondays, but I don't know that I would mind not having Saturdays. I just can't handle a full Friday and then a full Saturday. Being closer to 30 than I am to 20 is downright tiring, and I really don't like to socialize with more than like 10 people, so I am good with a solid T-F week. My husband is now over 30 (ok, he's 30 and like 20 days), but still, I don't know how he even gets up in the morning. (Oh ya, he has a smoking hot wife who will make him dinner every night…..And by smoking hot she's got a nice face and a little extra to love….) I already feel achy at 27. Mad props to all you 30 plus-ers out there. I don't know how you can even read font this small. Also, I have no idea how I got on this, so here is a legit recipe to mellow out your Monday.
Roasted Tomato Basil Soup
6 medium/large tomatoes, sliced in half
2 tbs. extra virgin olive oil
Salt
4 cloves of garlic, roughly chopped
½ white onion, roughly chopped
Handful of cherry tomatoes (or small yellow tomatoes), sliced
1 c. white wine (drink the rest, Monday sucks anyways)
4 cups low sodium chicken broth
6 small tomatoes, quartered
Handful of basil, chiffonaded (don't think that's a word)
1 clove of garlic, minced
Heat oven to 300. Place the larger tomatoes on a baking sheet and drizzle with 1 tbs. olive oil, and sprinkle with some salt. Roast for 2.5 hours, flipping every 45 minutes. Once they are done, transfer to a blender. In a large Dutch oven (I can't not laugh every time I use that word), heat 1 tbs. olive oil. Add in garlic, onions and sliced cherry tomatoes, and sauté until soft, about 8 minutes on medium. After they have softened, add in the white wine and reduce for about 5 minutes until the alcohol has cooked out. Transfer to the blender with the tomatoes, and add in the chicken broth. Add in 3 basil leaves and blend until smooth. Once blended, add back into the Dutch oven and simmer for 2 hours. You really don't have to cook that long but I put it on the stove and forgot about it and it ended up good, so I just say 2 hours. If you wait two days, you can thin this out with another cup or two of chicken stock and use as a pasta sauce. It makes 6 servings, so unless you are a human-whale hybrid, you can't finish this in one sitting.
If you want to make a little "bruschetta" topper, combine the bottom three ingredients and serve on top. I had leftover pesto, so I mixed it with some sour cream for a garnish.

I served mine with grilled cheeses with avocado and arugula. Turns out, I don't like warm arugula, but avocado in a grilled cheese is da bombbbbbb.