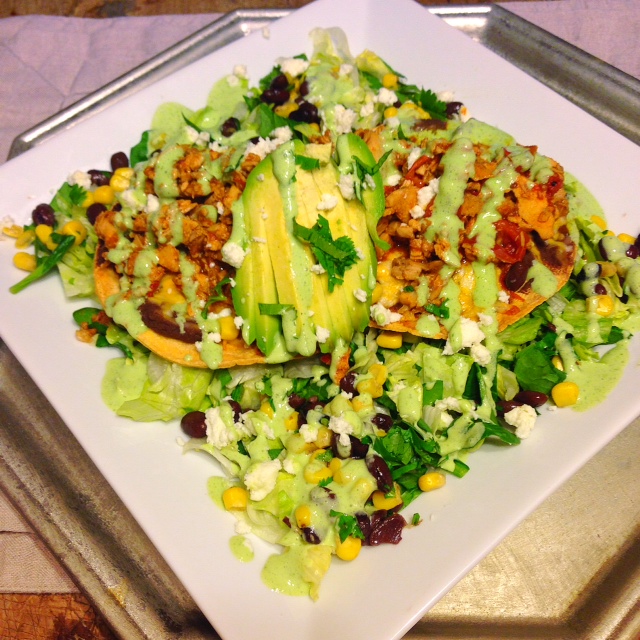 I personally hate leftovers. Unless it's some form of carbohydrate covered in sauce, or tater tots. Leftover meat sicks me out (minus bone-in ribeyes–always welcome in my fridge). I spatchcocked (hehe) a whole chicken on Monday, and turns out that two people can't eat a 4 lb chicken in one sitting, so we had lots of leftover chicken. Sidenote–I fully believe that eating 4 lbs of chicken is possible, and someday I plan on eating 4 lbs of chick-fil-a nugs….ON A SUNDAY. (Valentines Day is on a Sunday in 2016–just saying–best V-day ever)
Mexi Chicken Salad Stacks
1 can of black beans, rinsed
1 can salt free or low sodium corn, rinsed
1 handful of cilantro, chopped
½ tsp. onion powder
½ tsp. garlic salt
½ tsp. chili powder (or paprika if you don't like spicy)
Leftover chopped chicken (2 cups)
2 tbs. taco seasoning
½ c. water
2 tostada shells
½ c. fat free black beans
Shredded Colby jack cheese
1 cups chopped iceberg
1 cup chopped spinach
Combine the first 5 ingredients and toss—there you go dummy, you've made a black bean and corn relish. Mazel. This stays good for a few days in the fridge, and you can put on anything (especially leftovers—I'm talking to all you single cat ladies out there)
In a skillet, heat water and taco seasoning. Add in the chicken and cook on medium heat until it has absorbed the liquid and gotten hot—prob about 5 minutes.
Slather the tostadas (slather sounds really creepy for some reason. Almost as bad as moist. Ew.) Anyways, slather them with the beans and cheese, and bake at like 350 until the cheese is melted.
Put your lettuce and spinach on the bottom of the plate, then tostadas, then chicken and then the black beans and corn. Drizzle with dressing (recipe below), and garnish with avocado. I promise you probably have half these ingredients already, so don't be freaked out by the long list.
Cilantro Lime Crema
1 bunch of cilantro, bottom stems removed
Juice of 2 limes
Zest of 1 lime
2 cups of Mexican table cream (cacique). Barf, hate the word cream too.
Combine all in your Vitamix (again, if you don't have a vitamix, can you even afford to be reading this? How do you pay for wifi?). Takes about a minute to completely blend. If you want spicy, add in some Japs** or poblano peppers. Enjoy!
**Please don't actually add in Japanese people—Add jalepenos. I am rather fond of sushi and don't want to make any enemies.