Perfect Roasted Chicken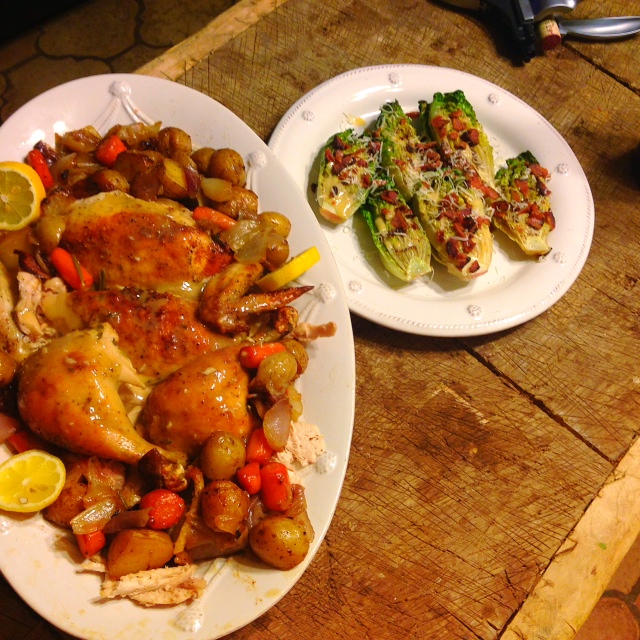 1 5-6 lb. chicken (seems big If you're cooking only for 1 or 2, but you'll use leftovers)
5 Cloves garlic, peeled
1 lemon, halved
2 sprigs rosemary and thyme, still on the stalk
½ white onion, quartered
1 red onion, quartered
10 baby Yukon gold potatoes, halved
3 carrots, chopped as close to the same size as the other root veggies
2 tbs. butter, softened
Seasonings
When you get home from the grocery, immediately wash and pat dry the inside and outside of your chicken, removing and excess "goodies". Generously salt and pepper the inside and outside of the bird. Instead of directly grinding the salt and pepper over/into the chicken, I do it in a bowl so that I can touch the chicken and not worry about getting any chicken goo on my s&p shakers. Put the chicken on a plate and cover with plastic wrap and put back in the fridge for at least 4 hours. About 30 minutes before you are ready to cook your chicken (or 2 hours before you want to have dinner), preheat the oven to 425. Place all the veggies in a roasting pan, and take your chicken out of the fridge.
Side note: I don't like cooked carrots, mainly because the last cooked carrot I had was at a steakhouse in Dallas which shall remain unnamed, and it basically looks like a wiener served next to your steak. If I wanted a rib eye with a side of schlong, I'd head over to Le Bare and hit up their lunch buffet. Bob's, I'd love you if you didn't serve me roasted carrot weeny. Ooops, did I name the place? Whatev. My husband likes cooked carrots (should I be worried??) so I left them in there.
Anyways. Stuff the inside of the chick with the lemon, garlic and herbs, and make sure you squeeze the juice inside the cavity (THAT'S WHAT SHE SAID). With your fingers, gently wiggle under the skin on the breasts (this sounds like kitchen foreplay…) and put the softened butter under the skin. Salt and pepper the outside generously. Bowchickawowwow. Tuck the wings under the body, and tie the legs together with kitchen string. Place your chicken on top of the veggies and shove in to the oven. Cook for an hour and a half at 425. Take the pan out, and slice a little slice below the leg right where it meets the thigh. If the juice is clear, it is done. If it looks bloody, it's not. If it's done, remove the chicken and put on a dish and cover with foil. Put the pan of veggies back in the oven for 15 minutes to crisp up. After about 15 minutes, the chicken should be cool enough to slice. I slice off the breasts (hehe), legs and wings, and then put them back with the veggies in the pan. The rest of the chicken I slice off and put on a serving dish. Broil the veggies and chicken for like 1-2 minutes so that the skin crisps up (it might get soggy after sitting covered in foil). Remove and transfer everything to a serving dish and enjoy!