Just finished another incredible dinner—decided to go ahead and write it up now so that I won't forget what I made. Enjoy!
1 head of roasted garlic
2 cups low sodium beef broth
A little bit of slow cooked onions (not necessary, but I used ones from my soup last night)
½ tbs of cornstarch mixed with 1.5 tbs cold beef broth
HALIBUT
Halibut- 6 oz. per person
Salt and pepper
Olive oil
GRILLED 'CHOKES
Artichokes
Lemon
3 pieces of garlic
Olive oil
Salt and pepper
To make the broth, blend the first three ingredients together. Put in a saucepan and bring to a slow simmer. Whisk the cornstarch and beef broth together, then slowly whisk in to the broth. This just thickens the broth so that it is more of a sauce. Let it simmer for about 10 minutes. It is incredible.
For the Halibut, simply s&p both sides. Heat a skillet with some olive oil, and when it starts to get shimmery, add the halibut. DON'T TOUCH IT FOR 4 MINUTES. This makes the crispy crust. If you move it, you are an idiot—it will fall apart. Flip after 4 minutes, then do the same for the other side. You'll notice that I cook Halibut a lot—that's because it's the only fish at our fish counter besides Salmon (barf) that is not previously frozen. And it's really good—not an aggressive smell, and guys will eat it.
For grilled artichokes, clean and trim the prickly points off your chokes. Bring a pasta pot full of hot water, juice of half a lemon, plus that lemon after it's juiced, and the garlic to a boil. Add chokes and cook for 25-30 minutes. Take them out of the pot and let them cool for a few minutes. After they've cooled down, clean out the furry centers. Brush them with oil and s&p them. At this point you can put them on the grill for 3-4 minutes per side. I didn't want to f*ck with the grill for one thing, so I used a grill pan. This whole meal is healthy and delish, and pretty hard to screw up. If you make it and manage to F it up, then that sounds like a personal problem, and you should stop trying to cook, and just order take out.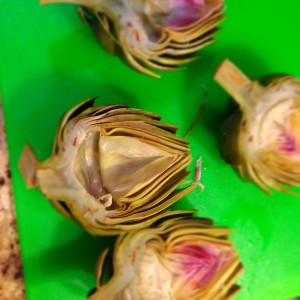 Peace